Here is my journal of our first trip on Our Tern: bringing her from Ft Pierce to Key Largo.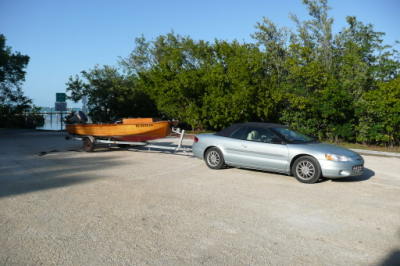 In the beginning
Wednesday, Aug 6, 2008
4:00 am Key Largo, US1
Like most great adventures, it all started at 4am with an extra large cappuccino and a full tank of gas (or in this case three full tanks of gas: once for my car and one for each boat)!
At 3am Wed I started what would become a 14 hours scavenger hunt. First I prepared the "skiff" for towing from Kay Largo to Ft Pierce. Then I hooked its trailer up to my car, loaded the parrot, Cuka, (who had to voice a few minor complaints about the sun not being up yet), and drove north into the first of what would become a five rainstorms day for me and Spun Key (our 16' wooden "dingy").
Other than three thunderstorms I drove through that morning, the only road event worth mention was a brief 5:30 am pit-stop at the barrio gas station near Ft Lauderdale. When I pulled-up and parked the convertible, wooden boat and trailer out at the edge of the lot, there were just a couple landscape truck-and-trailer rigs gassing up. But as I waited for the restroom, the population quadrupled. People came walking, biking and driving in from everywhere. Seems this was the meeting spot for the day laborers. And everyone was interested in this boat, convertible and parrot. This sure didn't match their usual Wed morning routine in the barrio landscaper's lot. It reminded me of my childhood days in Mexico: when the macho guys would stand around, fluffing each other up, trying to get points for drawing the attention or perhaps a few words from the blonde American. I must have had 50 eyeballs on me when I walked around the boat checking tension on the tie-downs and safety chains on the trailer, all the time playing whistle games with Cuka (who always wants to show-off for everyone).
Soon I was watching the sunrise over the Palm Beach skyline. And then all the rushing around from the past few weeks started to clear. And I realized that my next several sunrises would probably be seen from the water. Without land, trees, and buildings to cloud my view. And that is when all the exhaustion and anxiety about the voyage melted and was replaced by excitement and energy to "get 'er done!" Or maybe it was just the second cappuccino talking.
At 7:45am I arrived in Ft Pierce and made a quick pit-stop to purchase a disposable camera. Phil has called to say that somehow when he charged the digital camera's batteries, they made the camera "stupid". It didn't want to open or close the lens cap at the correct times. It wouldn't even take a picture (although it looked like it was). I stopped at the BP gas station and made this tiny lady from India climb this step stool to the top shelf of her little cashier cage to pull down the dustiest camera I've ever seen. Luckily box indicated the film was still two month from expiring!